An Uncommon Courtship by Kristi Ann Hunter
Book Description: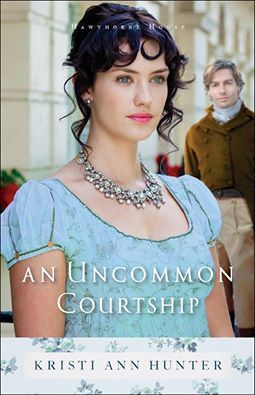 Life for Lady Adelaide Bell was easier if she hid in her older sister's shadow--which worked until her sister got married. Even with the pressure of her socially ambitious mother, the last thing she expected was a marriage of convenience to save her previously spotless reputation.
Lord Trent Hawthorne couldn't be happier that he is not the duke in the family. He's free to manage his small estate and take his time discovering the life he wants to lead, which includes grand plans of wooing and falling in love with the woman of his choice. When he finds himself honor bound to marry a woman he doesn't know, his dream of a marriage like his parents' seems lost forever.
Already starting their marriage on shaky ground, can Adelaide and Trent's relationship survive the pressures of London society?
My Opinion:
LOVED IT! :D I LOVE this series!!! Each time I pick up one of these books it feels like spending time with dear friends! I was SO excited for Trent's story and Kristi does not disappoint! :D She throws you right into the story and boom you're in the thick of it! It took me a little while to figure out what was going on and what had happened to lead to this beginning, but after I got my brain around it I IMMEDIATELY started enjoying it!!! The humor woven throughout the whole plot left me in constant giddiness! ;) I was banned from reading this book in public! LOL! I LOVE these characters, and followers of the series will be happy for the returns of them all. I also love the addition of Adelaide! She is a sweet character and I enjoyed seeing her grow. And Trent (deep sigh) I just love that man!!!! Really I LOVE all these characters with their Faith, their loyalty, and their love for one another! There are scenes revolving the marriage bed, but they are well placed, needed in the story, and don't go into graphic detail! As you all know these key points are important to me as a BIG fan of the fade to black! ;) I devoured this book and did not want it to end!!! It was one of those that caused a touch of depression when the last page ended, and since I didn't want to move on I REALLY wanted to start it all over again! :D I CAN NOT WAIT for the next book and even wouldn't mind Kristi continuing with the character's stories.....maybe by a new series with their kids grown and marrying? ;) But I digress! An Uncommon Courtship is a GREAT read in a FABULOUS series that I HIGHLY recommend!!!!
Song (I LOVE these books but I do find it difficult sometimes to come up with songs. While this one isn't a perfect fit I do feel that there are parts that fit nicely. I hope you agree!): "
Lead Me" by Sanctus Real
Songs etc. May be changed and/or added in the future. ~ASC
1 John 4:16,
1 Corinthians 13:4-8
~ASC
*I requested and received this book from Bethany House for the purpose of reviewing it. This in no way affected my opinion and the above are my true thoughts and feelings about An Uncommon Courtship. ~ASC