The Promise of Breeze Hill
by Pam Hillman
Book Description: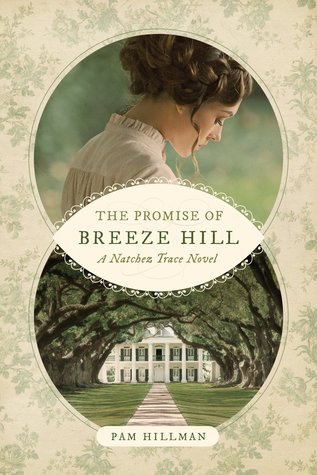 Natchez, MS; 1791
Anxious for his brothers to join him on the rugged frontier along the Mississippi River, Connor O'Shea has no choice but to indenture himself as a carpenter in exchange for their passage from Ireland. But when he's sold to Isabella Bartholomew of Breeze Hill Plantation, Connor fears he'll repeat past mistakes and vows not to be tempted by the lovely lady.

The responsibilities of running Breeze Hill have fallen on Isabella's shoulders after her brother was found dead in the swamps along the Natchez Trace and a suspicious fire devastated their crops, almost destroyed their home, and left her father seriously injured. Even with Connor's help, Isabella fears she'll lose her family's plantation. Despite her growing feelings for the handsome Irish carpenter, she seriously considers accepting her wealthy and influential neighbor's proposal of marriage.

Soon, though, Connor realizes someone is out to eliminate the Bartholomew family. Can he set aside his own feelings to keep Isabella safe?
(less)
My Opinion:
Good read. I really wanted to read this one and was so happy I got the opportunity to. Pam comes up with some of the best plots, and I've always enjoyed her writing. The only thing that made this a good read instead of a GREAT read was simply because of some of the jumpiness of scenes and also a little too much kissing for me! LOL! Now don't get me wrong I don't mind kissing scenes, and when they're done well I enjoy them! But I just felt there were too many and some were at strange times, in my personal opinion. LOL! I don't want to give anything away so I'll just say I wish some of the kisses were placed differently in the story or cut out all together. The characters are great though, and I can't wait to read about Connor's other brothers! Connor himself is a great character, though a bit on the stubborn side, though any Irish character worth his salt should be! ;) And I both loved and got frustrated with Isabella. Strong and capable one moment and a tad timid the next, there were scenes in this book that blew me away and I want to read them again and again! I LOVE when Isabella was strong! Then end felt a tad rushed to me, though I enjoyed how Pam brought everything together! Overall it was a nice read and I'm enjoyed many aspects of Isabella and Connor's journey.
Songs: "He Leadeth Me" performed by The Cluster Pluckers, "Come To Jesus" by Chris Rice
Songs etc. May be changed and/or added in the future. ~ASC
Jeremiah 29:11
~
ASC
*I requested and received this book from Tyndale for the purpose of reviewing it. This in no way affected my opinion and the above are my true thoughts and feelings about The Promise of Breeze Hill. ~ASC