A Grand Design by Amber Stockton
Book Description:
About Quilts of Love:

Quilts tell stories of love and loss, hope and faith, tradition
and new beginnings. The Quilts of Love seriesfocuses on the women who quilted all of these things into their family histories. A new book releases each month and features contemporary and historical romances as well as women's fiction and the occasional light mystery. You will be drawn into the endearing characters of this series and be touched by their stories.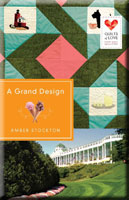 A getaway on a charming island may be just what Alyssa needs---if only she can let go of her past.

When Alyssa Denham, a single career woman, wins a fun getaway for two on Mackinac Island where her grandmother lives, she gives her carefree best friend a call. Together, they tour the old shops and hidden treasures of the quaint island while helping Alyssa's grandmother piece together an heirloom quilt. Their quest gains them entrance into the homes of many longtime residents of the island, parts of the city that are otherwise off limits to tourists.

As the quilt's story takes shape, Alyssa gains amazing insight into her grandmother's life . . . and attracts the attention of the handsome Scott Whitman, an island resident in charge of hotel transportation. Will memories of her past keep Alyssa from letting go? Or will the quest to piece together the heirloom quilt restore Alyssa's fractured heart---and bring healing to her entire family?
Learn more about this book and the series at the Quilts of Lovewebsite.
About the Author:



Amber Stockton

is an award-winning author, a national speaker, and a direct-sales brand partner with Nerium International. She lives with her husband and fellow author, Stuart Vaughn Stockton, in Colorado. They have a daughter and a son, and an Aussie/retriever mix named Roxie. Three of her novels have won annual reader's choice awards.
My Opinion:
Easy read. I found the island aspects and the whole hunting down quilt squares to be fascinating. The pace was a little too slow for me at times and I did feel there were times when the plot lagged because of it. It kind of left me with a feeling of "where's the rest of it"? There were many things about the way Amber writes that I loved and some that I didn't really like. I do LOVE her use of "it's a God-thing", I always use and love the statement because there are just things that happen and fall so perfectly together you know that only God could have made it happen! :) I LOVE those moments when God's care and orchestration are so evident in life! <3 I really enjoyed the characters mainly Alyssa's grandmother and some of the other ladies Alyssa comes into contact with while gathering the squares. Mainly there are two things that I think would have made this book better: 1.) a faster pace and 2.) if it had been longer. There are just some things that could have been fleshed out like with the making of the quilt, the girls learning to quilt, or each visit with the ladies with the quilt squares. There were times when certain scenes seemed to be rushed and other's dragged. As you have probably ascertained I'm a little torn with this one! LOL! If this book did one thing it made me want to visit this island and hotel! It sounds really neat!
Track list that I feel fit with the book: "
Somewhere In Time (Somewhere In Time/Soundtrack Version)" by John Barry, "Steady My Heart" by Kari Jobe, and "God Is So Good" by John Jones
Songs etc. May be changed and/or added in the future. ~ASC
~ASC
*I requested and received this book as a member of Litfuse for the purpose of reviewing it. This in no way affected my opinion and the above are my true thoughts and feelings about A Grand Design. ~ASC